About Hannah Nydahl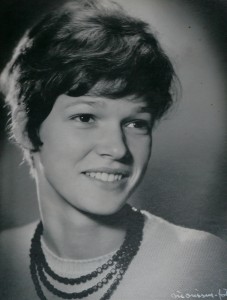 Hannah Nydahl was a Danish woman, a Buddhist practitioner and a teacher who devoted her life to establishing Tibetan Buddhism around the world. She was widely respected for her work, devotion and accomplishments within the Buddhist community. A Danish newspaper referred to her as the "Mother of Buddhism." The department of the Study of Religion at Aarhus University said: "The most lasting influence on the Buddhist practice scene in Denmark was triggered by Ole and Hannah Nydahl backpacking in the spiritual East during their honeymoon in Nepal in 1968."
Hannah Nydahl was born right after the war to an academic Danish family. She was the youngest of four siblings. "I used to have a lot of questions," Hannah recalled about her childhood, "I would wonder about the existence of many things. Christianity was definitely not giving the answers I was looking for."
A child of the sixties, Hannah studied French and Danish at the University of Copenhagen, where she met the wild but charismatic Ole Nydahl. "She was a little concerned by my brother and me because we were quite rough, Danish rough," recalls Lama Ole. However, their strong connection was obvious from the first moment.
Their intense curiosity to find and experience the free nature of mind, coupled with idealism, led them on the hippie trail. In 1968 they travelled overland to Nepal where they met a prominent and powerful Bhutanese lama, Lopon Tsechu Rinpoche. He became their first teacher and stayed by their side until his death in 2003.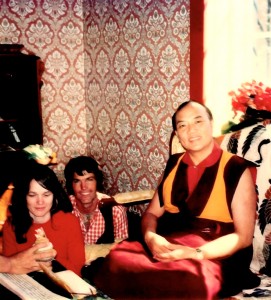 It was through Lopon Tsechu that they met the man who would change their lives – His Holiness the 16th Gyalwa Karmapa, the head of the Karma Kagyu meditation lineage of Tibetan Buddhism, also called "the King of the Yogis". They dropped all psychedelic approaches and focused exclusively on the Buddhist path.
Hannah and Ole travelled to Rumtek Monastery in Sikkim, the seat of the 16th Karmapa, where they stayed for three years to learn from and practice with him. They also spent several months in Sonada, Darjeeling, practicing under the instruction of Kalu Rinpoche.
After a few years in the Himalayas, Karmapa called for them. He gave them the task of going home to teach meditation and Buddhism to those who were interested in it. "Karmapa said, I want you to do this, I want you to talk to your friends, start Buddhism in the West," remembers Lama Ole.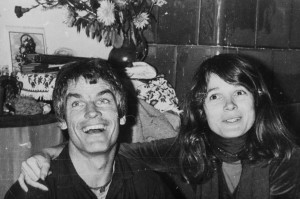 The first few years back in Europe were challenging. Hannah and Ole would clean schools at night to make a living and write and teach Buddhism during the day. It was at this time that they wrote their first book "Teachings on the Nature of Mind." They also began to travel throughout northern Europe. While Ole was setting up centres in the name of the Karma Kagyu School and giving teachings, Hannah began to translate Buddhist practises under the guidance of the lamas. For the first time these authentic methods became available for westerners in a language they could understand.
For twelve years until Karmapa's death in 1981, Hannah and Ole kept a very close connection to him. When he came to Europe they arranged tours for him, and Hannah was always by his side, translating. Hannah became the guide for Tibetan lamas in Europe and later also in East Asia, translating and explaining the ways of the West. For generations most Tibetans had been isolated in the secluded region of the Himalayas and had never seen or had any connection to the West.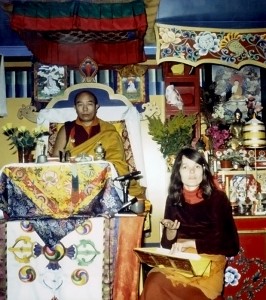 Hannah also began to translate for other high Tibetan Lamas including Shamar Rinpoche, Situ Rinpoche, Gyaltsab Rinpoche, Kalu Rinpoche, Tenga Rinpoche, Ayang Tulku and many others. She soon became renown for her unique understanding and experience of Buddha's teachings, and her ability to both express and embody them.
Hannah and Ole's work did not stop in Western Europe. Karmapa instructed them to make centres all the way from Poland to Vladivostok, no easy task in the middle of the Cold War. Beyond that, they also began to travel, setting up centres and bringing teachings wherever they could. They managed to bring the authentic transmission of Tibetan Buddhism to a broad range of societies, retaining the essence of the profound ancient teachings but explaining them through modern Western experience in a way that remains unique to this day.
In the early 1990s, the Kagyu Crisis forced Hannah and Ole to face the influence that Chinese Communism and Tibetan politics had on the lamas and their search for the new Karmapa. "We felt very responsible for preserving trust in Buddha's teachings, the Dharma itself," recalled Hannah. At this time she began working very closely with Shamar Rinpoche, supporting him through the challenges.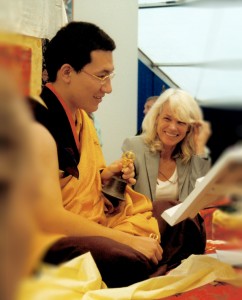 Hannah also began to work at the Karmapa International Buddhist Institute in Delhi, as a translator and organiser. When she was asked to teach she chose to remain a translator. During that time she became close with the young 17th Karmapa. "She was a wonderful human being," remembers Karmapa, "She had great care and great understanding. Because of her experience she would solve things, mend things, remedy things in the most peaceful way."
In 2006 Hannah was diagnosed with terminal lung cancer. She was given three months to live. It was an incredible shock for everyone. But Hannah herself had no fear, remembers Ole, "It was just that she found out that she was leaving now."
All travelling stopped and she and Ole returned to Copenhagen to live out her last days together in the centre they founded in 1974. "During that time what was so touching was to see those two," remembers Eckart, a close friend. "Hannah was holding Ole and cradling his head. You could see how deep a relationship can go when there is a beyond personal task that unites you."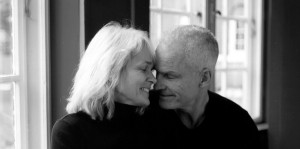 Almost exactly three months after the diagnosis, Hannah passed away whilst in meditation, with her husband and a few friends around her. Her legacy lives on in the people she touched and the centres she and Ole started during more than 35 years of work. "I'm very grateful to both of them and of course to Hannah in particular," says Karmapa. "Now there are thousands and thousands of practitioners. They have connected those families, thousands of families, with the most precious Dharma. They have connected that. Tied the knot. And I think that's amazing."